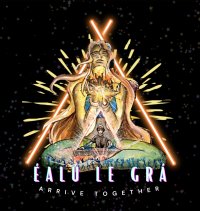 Dear Friends,
The fourth edition of our Éalú Le Grá festival is locked in for the June Bank Holiday weekend from the 31st of May to the 3rd of June 2024. Returning to the enchanting and hallowed surroundings of Co. Galway, this three-day camping festival promises yet another unforgettable experience for the Éalú Le Grá community. Prepare to immerse yourself in a world of art, music, passion, love, and boundless creativity as we come together for a truly magical weekend next summer.
Éalú Le Grá is a music and arts festival experience in the west of Ireland celebrating art, music, food, creativity, passion, and the undulating nature of this wonderful life. We strive to create an environment where people feel safe and welcome to be yourself. Our mission is to bring the community together through love, dance, and wholesome shared experiences. Now more than ever there is a need for genuine heartfelt human connection and a revitalisation of our community spirit.

The first Éalú Le Grá took place in September 2021 in a magical location in the west of the country. A shared vision for over ten years brought to life by a team of like-minded individuals, creators, performers, facilitators, musicians, and dancers. Éalú Le Grá is a collective symbiosis in an environment that both stimulates and grounds us in love, unity & dance.
Our vision is to create an environment that encourages self-expression, co-creation and promotes authenticity in how we show up in the world. A time for our higher selves to shine through and connect. For the past three years, we has celebrated our roots by providing a platform for local, emerging artists and performers to showcase their talents.

Please be mindful that this is a festival with a limited capacity. Thank you for your support and we sincerely hope you can join us next June.
Community, love, and dance.
Escape with Love, Arrive Together x
Please Note
**Éalú Le Grá 2024 is a strictly over 21 years of age event**
**No animals or pets of any kind will be allowed on site**

** There will be no refunds on tickets purchased unless the event is cancelled. Many thanks for your ongoing support! **